Book now on our website and get exclusive discounts!
paid

Best price online

Guaranteed

local_offer

Exclusive discounts

5% discount on our website

cancel

Free Cancelation

Flexible rate, 24 hours before arrival.

contact_mail

Protur Club

10% discount & accumulate points

credit_card

Payment at the hotel

More flexibility
Rooms Protur Badía Park Aparthotel Sa Coma, Mallorca
Pleasant and quiet rooms ideal for relaxing
At the Protur Badía Park Aparthotel our aim is for you & your family to have a really enjoyable stay, doing your own thing but with everything at your fingertips. That's why we've designed our new studios & apartments in Sa Coma especially with families in mind: large, bright, modern in style & with versatile furniture that adapts to both adults & children.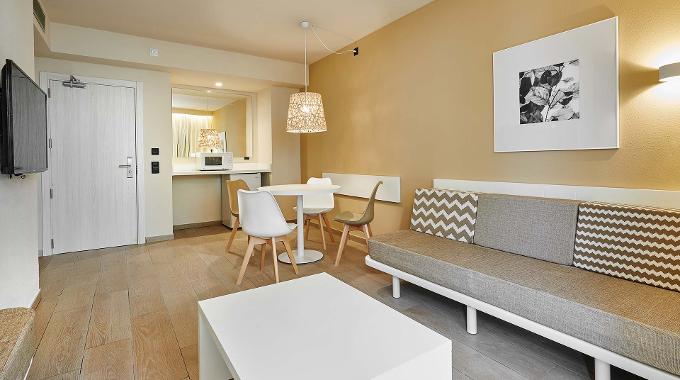 Apartment
Max.
3
person
1
person
Sleeping up to 4, our apartments at Sa Coma beach are ideal for those travelling with children since they provide a bedroom with twin beds, a living room with 2 sofa beds, bathroom & balcony.
Person / night - VAT included
Double room
Max.
3
person
Fully renovated & offering guests all kinds of little details for their comfort, the Double room at Sa Coma beach of the Protur Badía Park offer open spaces with twin beds, a sofa bed & balcony.
Person / night - VAT included