Book now on our website and get exclusive discounts!
paid

Best price online

Guaranteed

local_offer

Exclusive discounts

5% discount on our website

cancel

Free Cancelation

Flexible rate, 24 hours before arrival.

contact_mail

Protur Club

10% discount & accumulate points

credit_card

Payment at the hotel

More flexibility
Promo -5% extra
Promocode: 2020
Obtén un 5% extra de descuento en tu reserva de esta habitación
Sign up
Double room | Protur Badía Park Aparthotel
Fully renovated & offering guests all kinds of little details for their comfort, the Double room at Sa Coma beach of the Protur Badía Park offer open spaces with twin beds, a sofa bed & balcony.
Max.
3
person
Room services & facilities
2 single beds together of 1 m x 2 m each

Air conditioner / Heating

Full bathroom with shower

Balcony with tables and chairs

Safe (for hire)

Fridge / Microwave

Hair drier / Toiletries

Satellite TV (42" flat screen) / Direct phone line

Free Wi-Fi
Other rooms
Discover other rooms
See all rooms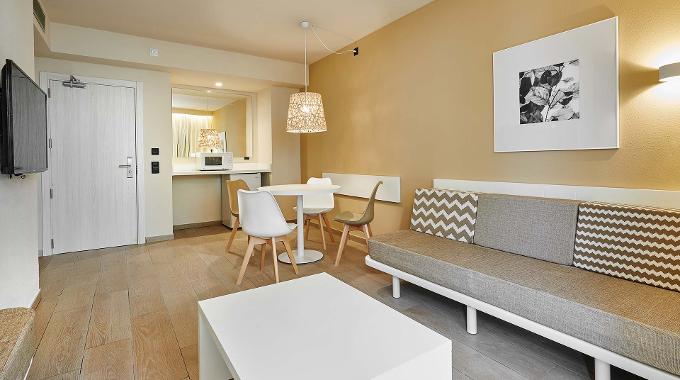 Apartment
Max.
3
person
1
person
Sleeping up to 4, our apartments at Sa Coma beach are ideal for those travelling with children since they provide a bedroom with twin beds, a living room with 2 sofa beds, bathroom & balcony.
Person / night - VAT included
Advantages direct booking
alternate_email

Free cancelation

Flexible rate, 24h before arrival
account_balance_wallet

Payment at the hotel

Flexibility for clients
local_offer

Exclusive discounts

-5% Promotional Code: 5EXTRA
card_giftcard

Protur club

Apply for the card and accumulate points
Sign up to ProturClub
Request the free protur club card and start earning points with each reservation
I want to know more
Gift Vouchers
Little details, big surprises.
Little details, big surprises. A fast, comfortable & flexible way to gift an experience to those we love most!
I want to know more
Nature & Environment
We love to "Think Green"
At Protur Hotels we take special care to preserve the environment in everything we do..
I want to know more