Book now on our website and get exclusive discounts!
paid

Best price online

Guaranteed

local_offer

Exclusive discounts

5% discount on our website

cancel

Free Cancelation

Flexible rate, 24 hours before arrival.

contact_mail

Protur Club

10% discount & accumulate points

credit_card

Payment at the hotel

More flexibility
Rooms Protur Bahía Azul Apartments Cala Bona, Majorca
Enjoy the perfect rest in Majorca
The Protur Bahía Azul Apartments family apartments in Cala Bona stand out for their spaciousness, their comprehensive services for the whole family & their Mediterranean-style decoration. They are specially designed for couples travelling with children, and offer all kinds of home comforts.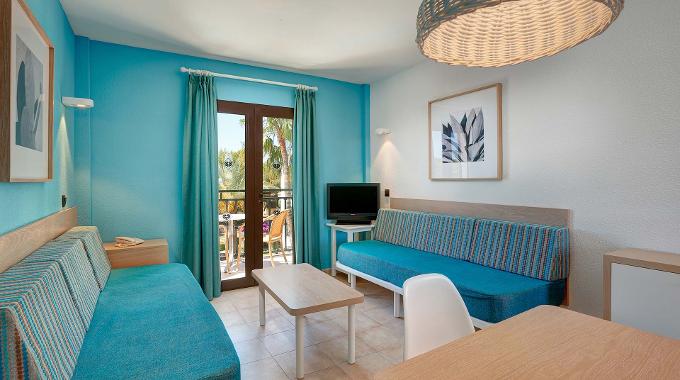 Apartment
Max.
3
person
1
person
The one-bedroom apartments at Protur Bahía Azul Apartamentos offer all kinds of features: bedroom with twin beds, living room with an equipped kitchenette, dining table & chairs, 2 single sofa beds & a furnished balcony
Studio
Max.
2
person
If you're looking for something a little more intimate, our studios in Cala Bona are perfect for couples or for couples with one child. They offer double bed & sofa bed, kitchenette, bathroom & balcony with table & chairs