Book now on our website and get exclusive discounts!
paid

Best price online

Guaranteed

local_offer

Exclusive discounts

5% discount on our website

cancel

Free Cancelation

Flexible rate, 24 hours before arrival.

contact_mail

Protur Club

10% discount & accumulate points

credit_card

Payment at the hotel

More flexibility
Facilities and services on offer at Protur Palmeras Playa Hotel
The facilities & services on offer at the Protur Palmeras Playa Hotel are a reference within the 4-star hotels in Sa Coma for the quality & variety on offer, capable of satisfying the needs of guests of all ages; from adults to our most junior guests.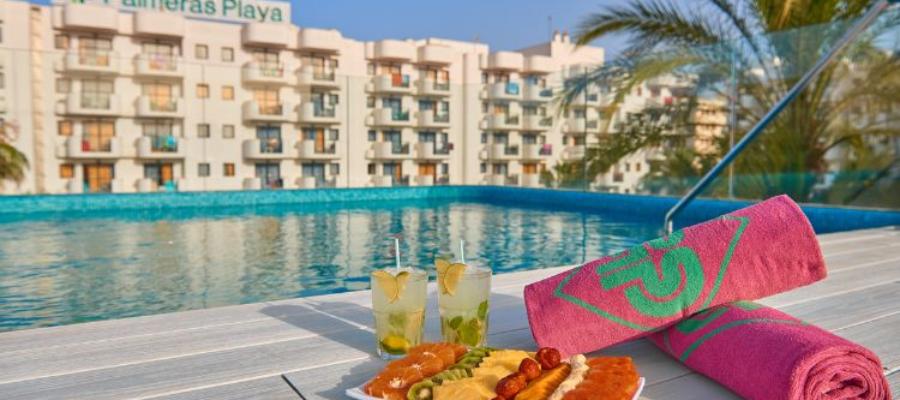 Pools
Family holidays mean relaxation & fun for everyone. Our hotel offers a large main pool with children's area and, to relax at your leisure, a rooftop Adults Only pool.
close
Main pool
Jacuzzi
Calcium chlorine pool
Opening hours: [10.00-18.00]
Pool depth from 0.90 to 1.55m
It has a hydraulic lift.
Swimming pool for adults only
Chloration pool saline
Opening hours: [10.00-18.00]
Pool depth up to 1.00m
Only for over 16
Children's pool
Chloration pool saline
Opening hours: [10.00-18.00]
Depth of the pool: 0.30m
Mini Club & Mini Disco
Mini Club for 4 to 12 year olds
Opening Times:
10.30 till 13.00
15.00 till 17.00
Mini Disco
20.30 till 21.00
*Times may be susceptible to change. Both services are free of charge. The service is not offered on Sundays.
close
Entertainment
The Protur Palmeras Playa Hotel offers a varied entertainment programme with daytime activities & incredible live shows every evening.
close
Gym
Gym
Hours from 08:00 to 20:00
Free
Access for people over 16 years of age.
It is mandatory to wear appropriate footwear
close
Services
Gym

Playground

Themed restaurants

Wi-Fi access throughout the hotel

Self-service washer and dryer (with charge)

Rooftop pool

Adult-only pool

Room for events and meetings

Iron & ironing table

Pool towel service (with deposit)

Electric Vehicle Charging Station