Book now on our website and get exclusive discounts!
paid

Best price online

Guaranteed

local_offer

Exclusive discounts

5% discount on our website

cancel

Free Cancelation

Flexible rate, 24 hours before arrival.

contact_mail

Protur Club

10% discount & accumulate points

credit_card

Payment at the hotel

More flexibility
Promo -5% extra
Promocode: 2020
Obtén un 5% extra de descuento en tu reserva de esta habitación
Sign up
Double room with terrace | Protur Naisa Palma
For those who want a space full of possibilities, our double rooms with terrace in Palma stand out for their 32 m2 terrace with wooden flooring, table & chairs, sun loungers & whirlpool
Max.
2
person
Room services & facilities
1 bed 1'80 x 2'00 per room (optional 2 beds 0'90 x 2'00)

Air conditioner / Heating

Bathrobe and slippers

Bathroom with shower & underfloor heating

Eiderdowns/quilts

Vanity mirror / hair drier / full length mirror / toiletries

Minibar-fridge / wardrobe / safe / desk / telephone

Smart TV with satellite channels

Free Wi-Fi

Whirlpool out on the terrace

errace with wooden flooring, whirlpool bath, sunbeds, garden table & chairs.

USB plugs for phone charging + cordless phone chargers

Single use plastic free rooms
Other rooms
Discover other rooms
See all rooms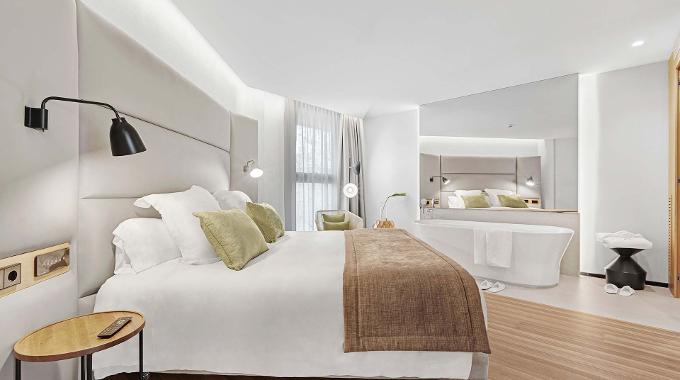 Deluxe Suite
Max.
3
person
1
person
Our deluxe suite stands out for its spaciousness: located on the 4th floor, it has a king size bedroom, living room, dressing room, mirror TV & a 32 m2 terrace with Bali bed & whirlpool.
Person / night - VAT included
Communicating Doubles Rooms
Max.
4
person
Ideal for group trips, our communicating rooms in the centre of Palma offer 2 double rooms with connecting door, ideal to relax in & can accommodate 2 to 4 people.
Person / night - VAT included
Double room
Max.
2
person
The double rooms at the Protur Naisa Hotel, in the centre of Palma, offer maximum comfort at the best price. Ideal for 1 or 2 people, with the choice of double or twin beds.
Person / night - VAT included
Advantages direct booking
alternate_email

Free cancelation

Flexible rate, 24h before arrival
account_balance_wallet

Payment at the hotel

Flexibility for clients
local_offer

Exclusive discounts

-5% Promotional Code: 5EXTRA
card_giftcard

Protur club

Apply for the card and accumulate points
Sign up to ProturClub
Request the free protur club card and start earning points with each reservation
I want to know more
Gift Vouchers
Little details, big surprises.
Little details, big surprises. A fast, comfortable & flexible way to gift an experience to those we love most!
I want to know more
Nature & Environment
We love to "Think Green"
At Protur Hotels we take special care to preserve the environment in everything we do..
I want to know more