Book now on our website and get exclusive discounts!
paid

Best price online

Guaranteed

local_offer

Exclusive discounts

5% discount on our website

cancel

Free Cancelation

Flexible rate, 24 hours before arrival.

contact_mail

Protur Club

10% discount & accumulate points

credit_card

Payment at the hotel

More flexibility
Gastronomy Protur Naisa Palma
The best days are the ones that begin with the best breakfast
Breakfasts, lunches... the Protur Naisa Palma Hotel invites you to enjoy the best gastronomy in its cosy restaurant in the centre of Palma. A space designed with an eye to every little detail, offering a varied buffet breafast & a gourmet lunchtime menu.
Vegetarians: our buffets offer a range of vegetarian dishes
Vegans: specially prepared vegan dishes are available on request
Allergens: our buffets offer gluten-free dishes and we have at your disposal the labelling & list of ingredients for intolerances.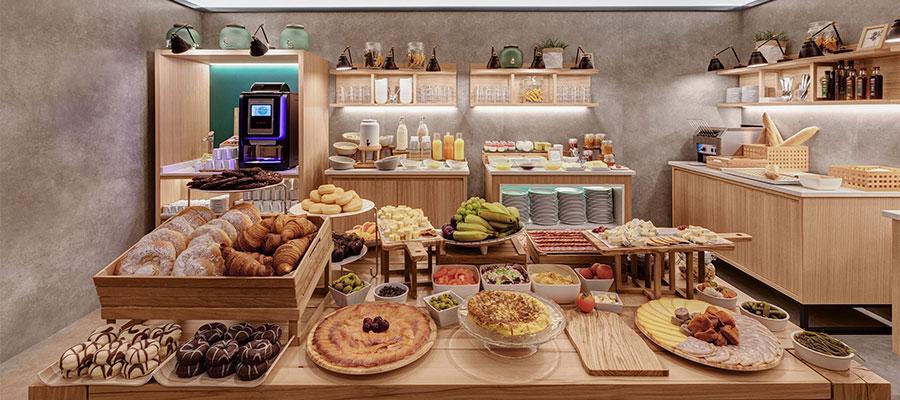 Breakfast
To start your day nothing better than one of the breakfasts on offer at the Protur Naisa Palma Hotel, in the centre of Palma, whether you have a long day's work ahead of you or you're going for a long stroll through the streets of the capital. Every day from 7.30 to 11.00 you'll find a wide variety of sweet and savoury offerings to combine to your liking
close
Cafe Bar
The cafeteria at the Protur Naisa Palma Hotel in Palma is at your disposal from 7 am to 10.30 pm every day of the week, whether you'd like to enjoy a quiet coffee or take a break during a business meeting.
We also offer a lunchtime menu from Monday to Friday for just 17€, with a starter, main course & dessert (a choice of three options available).

The Lunchtime menu is available 1 pm to 4 pm
close
The Roof
One of the great attractions of the Protur Naisa Palma Hotel, in the centre of Palma, is its spectacular Sky Bar, with an outdoor pool & chill out terrace where you can relax and celebrate the most exclusive events.
close