Book now on our website and get exclusive discounts!
paid

Best price online

Guaranteed

local_offer

Exclusive discounts

5% discount on our website

cancel

Free Cancelation

Flexible rate, 24 hours before arrival.

contact_mail

Protur Club

10% discount & accumulate points

credit_card

Payment at the hotel

More flexibility
Rooms Protur Floriana Resort Aparthotel Cala Bona, Mallorca
In a perfect setting, next to the picturesque Cala Bona harbour, the apartments that make up the Protur Floriana Resort Aparthotel are spacious & comfortable, offering you the relaxation & privacy you need during your holidays. A space custom made for you, with modern furniture, natural light & individual details that will make it your second home
Apartment with Whirlpool
Max.
3
person
1
person
Located on the first floor, our apartments with whirlpool in Cala Bona offer: bedroom with twin beds, living room with 2 sofa beds & a terrace with private whirlpool.
Person / night - VAT included
Two Bedroom Apartment
Max.
4
person
2
person
Able to sleep up to 4 adults and 2 child, our 2-bedroom apartments offer 2 bedrooms, each for 2 people, as well as a living room with 2 sofa beds & a balcony
Person / night - VAT included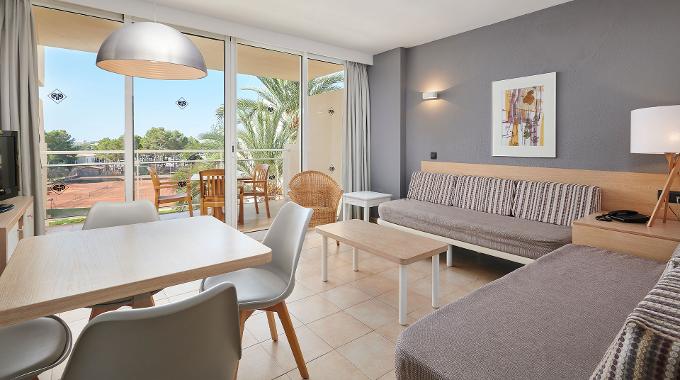 Apartment
Max.
3
person
1
person
The 1-bedroom apartments at the Protur Floriana Resort Aparthotel are ideal if you're travelling with children. They offer: a bedroom with twin beds, a living room with 2 single sofa beds & a private balcony
Person / night - VAT included