Book now on our website and get exclusive discounts!
paid

Best price online

Guaranteed

local_offer

Exclusive discounts

5% discount on our website

cancel

Free Cancelation

Flexible rate, 24 hours before arrival.

contact_mail

Protur Club

10% discount & accumulate points

credit_card

Payment at the hotel

More flexibility
Protur Biomar Sensatori Resort
from 81,00€
The hotel
location_on
Majorca - Sa Coma
As of April 1st 2022, the Protur Biomar Sensatori Resort hotel will form part of the international Sensatori brand that belongs to TUI, although the hotel will continue to be managed by Protur Hotels. The aim is that our mutual clients will benefit from this joining of forces.
The Protur Biomar Sensatori Resort will remain faithful to its essence as a five-star hotel offering tailor-made experiences for each guest. In addition to its facilities for families and exceptional Biomar Spa, it will also have a new building with avant-garde architecture dedicated exclusively to "adults only" holidays.
The resort will be set in an area of more than 60,000 m2. The adults area, family area & spa are connected by way of a large garden area.
The atmosphere will be international, both in service, gastronomy as well as day & evening entertainment, highlighting a great variety of shows and well known & prestigious performances.
Our offers
Hotel offers in Mallorca and Almería
See all offers
from 300€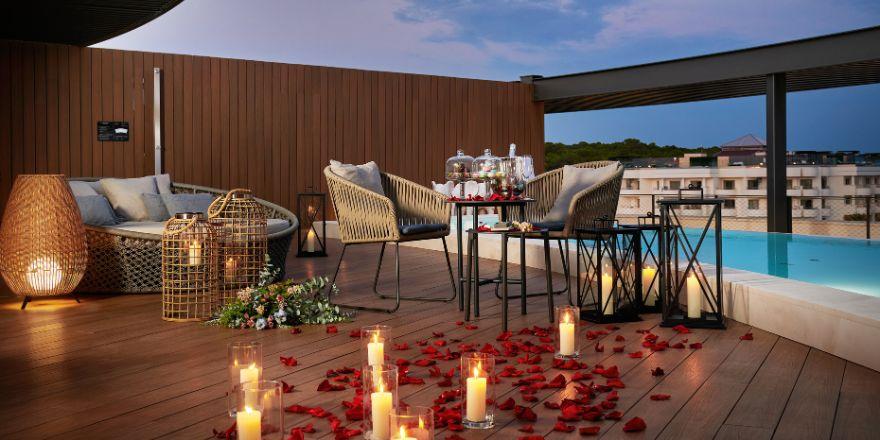 The perfect setting for your special event
A proposal, a birthday or anniversary celebration, or for any other special moment.
At the Protur Biomar Sensatori Resort we offer you the option of organising your very special event, and making your stay at our hotel a memory...
The perfect rest
Discover our rooms
Every room at the Protur Biomar Sensatori Resort invites you to live a unique experience, where comfort is combined with luxury services, designed to surprise you.
I want to know more
Sa Coma
Holidays in Sa Coma, Majorca
Located on the east coast of Mallorca, Sa Coma is one of the leading holiday destinations in Mallorca for both families and couples seeking tranquillity on the shores of the Mediterranean.
I want to know more
Gastronomy
Gastronomy is at the top of our list!
The gastronomy on offer at the Protur Biomar Sensatori Resort in Sa Coma deserves a very special mention, not just for the great quality & variety of its products
I want to know more